Our company
Our Company
TM2 is a company with more than 80,000 m2 of facilities dedicated to industrial packaging, wood packaging, lashing, and logistics in Spain and Mexico and with a team comprised of more than 150 people at your service.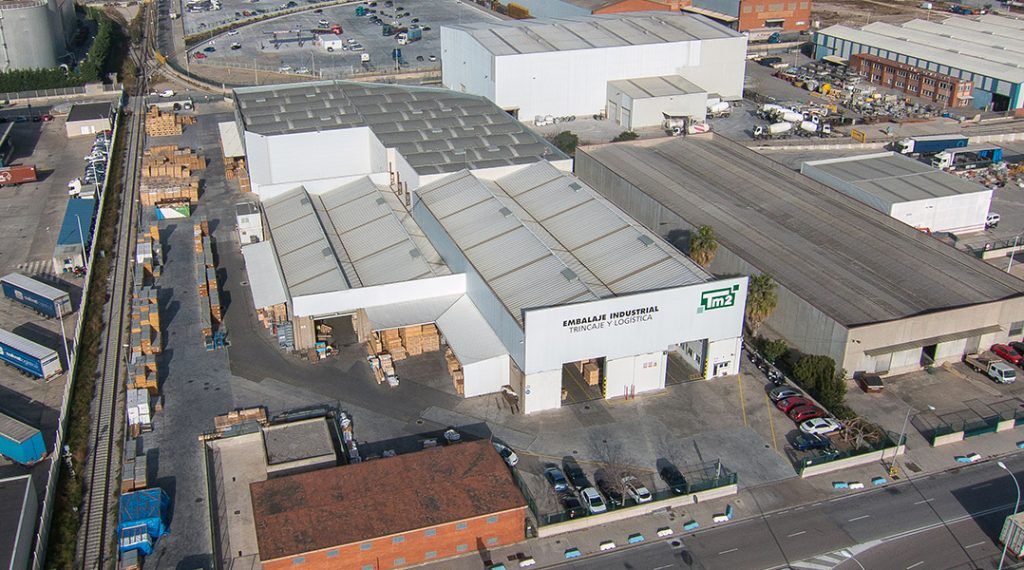 Specialists in Wooden Packaging
At TM2 we specialize in the manufacturing of wooden packaging, a material that protects products from impact, weather damage, and damage that may occur during transport or storage of products. Furthermore, wooden packaging is more environmentally responsible because it is a natural, renewable, and biodegradable resource.
Our wooden packaging is built according to customer specifications or by applying the international standards SEI, UNI, HPE, etc. They are made of 100% natural wood, free of bark and other imperfections.
We offer wooden packaging for complete projects, large indivisible units, machinery and equipment goods, shipments within CKD regulations, spare parts, accessories, and industrial elements in general.
Moreover, our philosophy of continuing to innovate has led us to create a new system of self-assembly, reusable, and detachable boxes called the Quick Packaging system. This system allows you to assemble your box in less than a minute in a very simple way, without the need for any kind of tool.
What type of packaging do we offer?
General wooden boxes
Wooden boxes
Plywood boxes
Boxes mixed from high-resistance cardboard and wood
Wooden crates
Customized or standardized palettes
Self-assembly boxes
Technical boxes
At TM2 we aim to offer you the ideal solution for your packaging, providing personalized solutions to cover all your needs. Don't hesitate to contact us if you have any questions about our services.
Corporate Culture
The corporate culture of TM2 is based on three fundamental pillars: the safety of our staff, the best quality in our services, and the utmost respect for the environment.
TM2 is certified as a registered entity in the Official Registry of Wooden Packaging Operators in accordance with Standard NIMF15. We are authorized to carry out the marketing of wooden packaging with the logo of the mentioned standard.
Quality, environment and health policy 
Servicios Recipe TM2 S.A. defines quality, environment and occupational health as a permanent and priority objective.
The Integrated Management of the MANUFACTURE OF WOODEN BOXES FOR PACKAGING, INDUSTRIAL PACKAGING AND LASHING SERVICE, MARKETING OF COMPLEMENTS AND MACHINERY FOR PACKAGING consolidates this policy to ensure the highest degree of customer satisfaction, promote respect and preservation of the environment environment and improve occupational health benefits.
Quality, environment and occupational health can only be achieved with a team of people who take pride in a job well done and being part of the Company.
They are the teams and the people that make it up, who work with these premises and who achieve them, guaranteeing competitiveness, success and continuity.
The management intends to remain a recognized company in the sector, bases its business development on a strategic plan that has considered the risks and opportunities perceived and the expectations of the interested parties, a plan that materializes in short, medium and long-term objectives. To impose, control and demonstrate its compliance, it adapts its system to the requirements of the ISO 9001: 2015, ISO 14001: 2015 and ISO 45001: 2020 standards, it is obliged to comply with the legal and regulatory requirements, with the specified requirements of the clients, and undertakes to:
Equality without discrimination based on birth, race, sex, religion, opinion or any other personal or social condition or circumstance.
The right of all interested parties to have their privacy, dignity and physical and moral integrity respected.
The achievement of the maximum satisfaction of the interested parties.
Serve its customers, defining quality levels.
The prevention and reduction of pollution from their activities.
The prevention of risks and minimization of non-conformities, incidents and accidents.
Provide safe working conditions to prevent injuries, deterioration and the elimination of hazards and risk reduction.
The implementation and development of Continuous Improvement
The establishment of the Objectives and goals of quality, environment and occupational health and the monitoring of their evolution.
Compliance with applicable legislation and regulations, both in quality, environment, and occupational health.
Permanent training of all staff.
The support of communication.
Environmental awareness and risk prevention.
The prevention and preservation of the health of all personnel.
The Management of Services Recipe TM2 S.A. hopes that this commitment will be assumed and adopted by all the Company's collaborators and will be integrated into their work style.
Management undertakes to ensure the application of this Policy and to periodically review its content, adapting it to the nature of the activities and their impacts and risks, as well as the general strategy of the company.
Miguel Ángel Jiménez
January 4, 2021